Adagio Inspiration Falls Wall Fountain with Solid Marble Slab Panels
This simple yet stunning waterfall boasts a single multi-hued piece gorgeous Rainforest Brown, Rainforest Green or Black Spider Marble and genuine waterfall sound.
Accent overhead lighting heightens the beauty of this incredible piece. This wall mounted fountain is a pleasure for the senses. A very impressive focal point in any room. Absolutely gorgeous!
Select from rounded or squared Rustic Copper with clear powder coat finish, Antique Blackened Copper or Stainless Steel Frame.
New Antique Blackened Copper Frame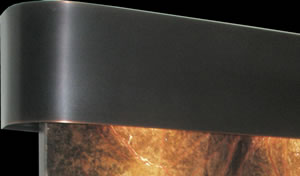 Your Marble Color Selection is made in the order page
Squared Rustic Copper



Regular Price: $

2,199.00
Sales Price: $1,999.00
Rounded Rustic Copper



Regular Price: $

2,199.00
Sales Price: $1,999.00
Squared Stainless Steel



Regular Price: $

2,199.00
Sales Price:$1,999.00
Rounded Stainless Steel



Regular Price: $

2,199.00
Sales Price: $1,999.00
Squared Antique Blackened Copper



Regular Price: $

2,199.00
Sales Price: $1,999.00
Rounded Antique Blackened Copper



Regular Price: $

2,199.00
Sales Price: $1,999.00