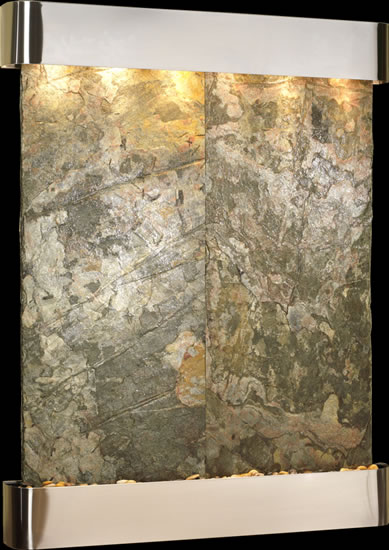 Shown above is the rounded Stainless Steel with Green Slate.
Shown below is squared Rustic Copper Frame with Rajah Slate.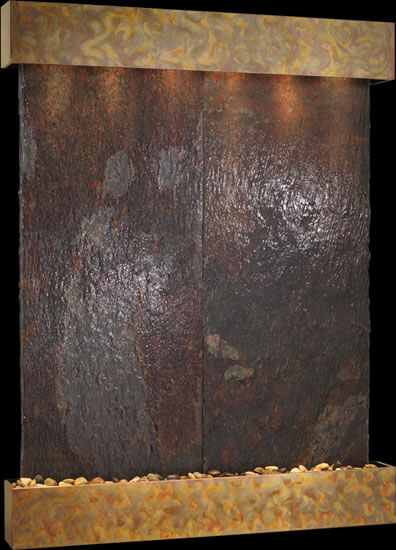 Click the image above for a room view of Majestic River
Customize this fountain with your sentiment, company name or logo etched in glass!

Call our custom department to learn more 1-800-427-6123
Adagio Majestic River Wall Fountain with Solid Slate Slab Panels
This beautiful wall mounted fountain is truly magnificent. Two large slate panels hang suspended between hand aged copper fixtures.
Accent lighting in the overhead valance highlights the water sheeting over the natural stone face.
Select from rounded or squared Rustic Copper with clear powder coat finish, Antique Blackened Copper or Stainless Steel Frame as well as your choice of Rajah, Black or Green Slate to blend with any decor.
New Antique Blackened Copper Frame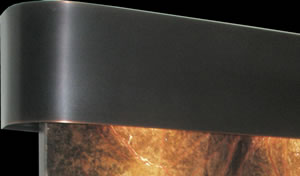 Your slate color selection is made on the order page
Rustic Copper w/Squared Frame



Regular Price: $

6,999.00
Sales Price: $5,999.00

Rustic Copper w/Rounded Frame




Regular Price: $

6,999.00
Sales Price: $5,999.00

Call 1-800-427-6123 Now for Unadvertised Specials and Discount Pricing

Stainless w/Squared Frame



Regular Price: $

6,999.00
Sales Price: $5,999.00

Stainless w/Rounded Frame




Regular Price: $6,999.00
Sales Price: $5,999.00

Squared Antique Blackened Copper Frame



Regular Price: $

6,999.00
Sales Price: $5,999.00
Rounded Antique Blackened Copper Frame



Regular Price: $

6,999.00
Sales Price: $5,999.00


Free Shipping anywhere in Continental US

If you like Majestic River in Slate you may also be interested in these similar wall fountains